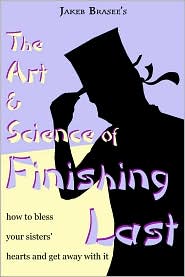 In
"The Art and Science of Finishing Last,"
Jakeb Brasee has unified the 2 seemingly-incompatible desires of today's young-ish men — being a ninja and being nice to girls — and managed to do this in 218 pages filled with:
biblical wisdom
relevant quotes from sources ranging from C.S. Lewis to Star Wars: Knights of the Old Republic
a series of missions for a shadow-gentleman in training, exercising both "Being-A-Ninja" skills and "Being-Nice-to-Girls" skills
some of the funniest sentences and paragraphs of all time.
The basic premise of this book is the bible verse 1 Timothy 5:12: "Treat younger women with all purity, as you would your own sisters." Many either don't know this verse, or don't know exactly how to live it out. "The Art and Science of Finishing Last" explains how to do this, first by giving an overview of a young man's duties concerning his sisters-in-Christ, then by detailing these duties in 4 major sections:
Serve - being truly useful to sisters-in-Christ
Protect - guarding, protecting and freeing sisters-in-Christ
Affirm - assuring sisters-in-Christ of their worthiness and beauty in God's eyes
Lead - "setting a tone for holiness and helping her become who she was born to be"
Each section is divided into a dozen or more lessons, offering sound advice on different aspects of both caring for sisters-in-Christ (and being a ninja at the same time, of course). In addition, each section has a set of missions to carry out that improve skills in both areas.
"The Art and Science of Finishing Last" is available for purchase on a number of sites including
Amazon
,
Barnes & Noble
, and
Jakeb Brasee's very own Ninja Gentleman blog
. It is a fantastic book, one that I highly recommend for any Christian brother who wants to treat his sisters-in-Christ as God wants him to treat them... and who also wants to be a ninja.